Description
Yale Kernmaster Phantom 11mm – Green / Purple by the foot
Get to the top faster with less elongation and bounce with Yale's newest version of Kernmaster featuring a polyester core.  The really big thing that sets this static rope apart from any other, is that it has a braided core and not a parallel core like the majority of static ropes.  The firm over-braid of the 48 carriers to the red polyester core make this rope a very supple one with great knot-ability, low stretch, less milking.  Meets ANSI Z133 standards and works well with a variety of mechanical devices.
Kernmaster Specifications and Data
* Knots and abrupt bends significantly reduce the strength of all ropes and lower the maximum working load.
** For situations where a person is NOT on the rope, the working load may be doubled (5:1).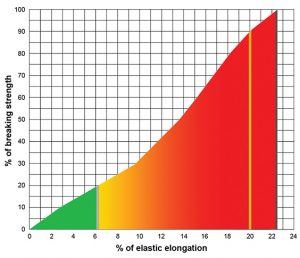 Green working 155 ft. lbs./lb.

 Red ultimate 9,775 ft. lbs./lb.
Specific Gravity: 1.23
Dielectric Strength: The maximum allowable leakage for clean, dry Kernmaster is 500 micro- amperes when tested at 100kV per Yale Method 712-1701 Rev 1 "Routine Production Test." Absorbed and entrained moisture or impurities will increase rope's conductivity dramatically.